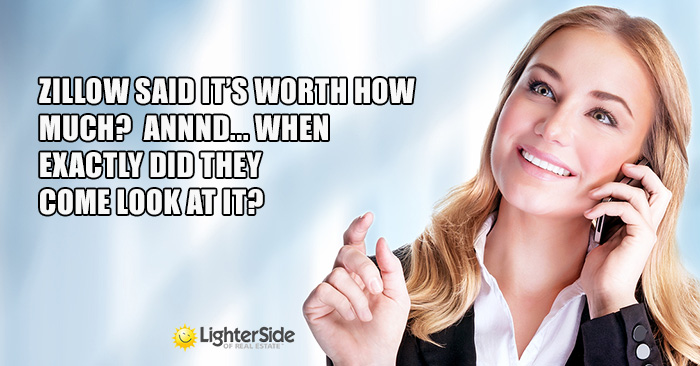 Let me just go ahead and say it bluntly: stop listening to Zillow.
Look, relying on Zillow to accurately determine your home's value is, at best, a crapshoot. Zillow itself even encourages buyers, sellers and homeowners to conduct other research such as "getting a comparative market analysis (CMA) from a real estate agent" and "getting an appraisal from a professional appraiser."
Sure, Zillow's Zestimates® are quick, easy, and free… but so is dating advice from your twice-divorced Uncle Larry. The point? Just let a local real estate professional (who will actually see your home's unique features in person) determine its fair market value.
Let's dive in a bit further, shall we?
First, I don't believe that Zillow is inherently evil. In other words, they don't set out to intentionallymislead the general public. In fact, they do have their positive points. Nevertheless, what is the net effect when buyers and sellers use Zillow? They often get inaccurate information, rely on it (even swear by it, ugh!), thus causing migraines for Realtors and agents everywhere.
See, for those of you not working in the real estate industry, you assume that Zillow is a trusted resource to find out what your property is worth. You assume the information is factual, based on homes that have sold in your area (also known as comparables or "comps"), and therefore are to be considered true market value. I'm here to explain to you why this website is feeding you misinformation and why it should not be trusted.
To put it simply…
The fine folks at Zillow don't have the slightest clue about your market. There are approximately 43,000 zip codes in the United States, and each one has variables that affect property values, such as: school district, knowledge of declining or flourishing areas, property taxes, proximity to interstates, hospitals, attractions and shopping, and bodies of water to name a few.
Let's pretend that you live in a 3 bedroom, brick ranch with basement in "Perfect Town, USA". When you plug your address into the search bar on Zillow, you will see a bunch of dots near your home. Those dots represent other homes that have sold, have foreclosed, or that are for sale or for rent. When you click on the dots, it will show you what the home sold for and the dot on your own home is just an average (also known as a "Zestimate") of what all the others sold for, regardless of how it compares to yours.
---
AGENTS: Are you on Lighter Side's email list? No? Click here because you're missing out!
---
Let's say that half of those homes are colonials, are vinyl sided and not made of brick, don't have a basement, or have 4 bedrooms or more, or are on the water, while yours is across the street from the water. Those are huge differences in the world of real estate, and especially to the appraiser who will seal the fate of what your home will inevitably sell for.
Zillow does not account for the condition of your home.
Your home may have been recently remodeled and has as updated kitchen and bathrooms, a new roof, new windows, new furnace, etc… and some of the homes being used as comps are stuck in the 1980's.
It could also be the opposite and you may see an inflated value put on your home because others in the area have sold for more because they are new construction or have been renovated. Just because your neighbors' homes sold for $500K doesn't mean yours will too.
Appraisers need to compare apples to apples, so unless you live in a neighborhood where all the homes are identical cookie cutter houses, don't ever expect to sell for what your neighbors sold for. Values change with every season, and the only true indicator of what your home is worth is the buyer. A Realtor can run a thorough comparative market analysis (CMA) for you and give you a pretty accurate value and suggested listing price, but what a buyer is willing to offer you is ultimately what your home is worth.
What a buyer is willing to pay is based on many variables too, including the location, the updates and amenities your house includes and how much competition you have. If you live in an area where it's a sellers' market, it means you have little competition and more buyers in the area than homes for sale. This is when you want to list your home, and can expect top dollar, as indicated by the buyer!
This doesn't mean you ask an outrageous amount, because anything over-priced will not sell. If you live in an area that is a buyer's market, then you need to compete with many other homes for sale and can expect your home to sit on the market longer. No matter what city you live in or how the market is in your area, one thing remains the same:
Zillow is not correct and you need to call your Realtor today to find out the value of your home! It takes a few minutes, it's FREE and, most importantly, it will be accurate!